We can offer the following services for our guests
Something to start with in the refrigerator
We'll fill up your fridge with something to start with upon arrival. It consist of coffee, juice, ham, cheese, jam, butter, egg and bread. Has to be booked in advance. Price: 10 Euro per person.
Wine tasting
We'll tell you about the work in the wineyard and taste the house wines together with some snack. Minimum 4 persons. Price: 15 Euro per person.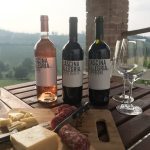 Rent a bathtowel for the pool
If you didn't have room in your luggage for a bathtowel you can rent one here. Price: 5 Euro per bathtowel.
Warm meal on arrival day
You can order a warm meal for the day you arrive, it consists of lasagna, bread and salad, including half a bottle of wine per person, cost is 25 Euro per person.
Bicycle rental
We can arrange for bikes to be brought to the farm for our guest, whether you prefer a regular bike or an electric bike. Price varies. Get int touch in advance and we will check this for you.
Bookings; restaurants, wineyards etc
We can help you with tip for restaurants and wine producers worth a visit, and help you book if you want. Can be arranged before your stay or during.
Transportation
We can help get transportation during your stay if you'll need, to/from the airport, restaurantvisits or other. Has to be booked in advance. Pleace contact us and we'll get the prices for your need.